An Exclusive Just You Christmas with the Countess Luppis
This year you are exclusively invited to spend Christmas with the Countess Luppis in her home, an elegant boutique hotel in Northern Italy. This boutique hotel has been reserved exclusively for Just You guests and is located in 12 acres of gardens between the regions of Veneto and Friuli.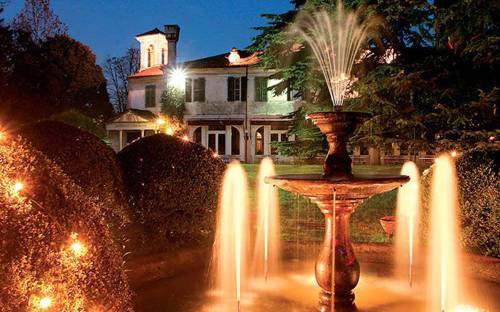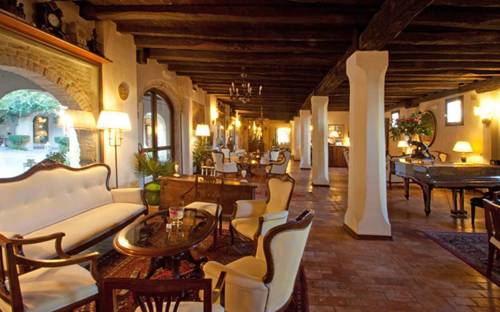 The hotel
Villa Luppis has its origin from the ancient Monastery "San Martino Ripae Ruptae", founded at the beginning of XI century by the Camaldolese monks, who expanded it over the course of two hundred years. It was then secularized by Napoleon and bought by ancestors of the Luppis Family, who converted it into an elegant residence destined to be a relation centre for their industrial and diplomatic activities. It is still property of the Countess and her family, who maintained through the years the original and unique state of the Villa. Located in a strategic position, surrounded by a secular tree park and equipped with every comfort, it has been an hotel for 30 years now, with 43 refined rooms and an inner delicious restaurant. It also has an outdoor swimming pool, tennis court and gym. The new SPA will include an indoor swimming pool, steam room, sauna and sensory showers and will offer various spa treatments.  
Restaurant
The restaurant offers a cuisine at the highest level; our chef takes inspiration from local products, combines them with creativity and creates delicious dishes from the Friuli tradition such as the Frico (heated cheese, potatoes and onions), but also Adriatic fish dishes, according to the seasonal ingredients. There is always a well-stocked selection of cheese, different oils and vinegars and an important Wine selection housed in the Villa's ice cellar, where we can organize wine tastings with our English and German speaking Sommelier, who introduces the guests to various kinds of wines and explains their characteristics and combination with dishes. We also organise in-house cooking school, which consists of theoretical and practical classes, where our chef demonstrates and supervises the preparation of dishes for a refined menu suitable for a special occasion.
A Unique Christmas
Christmas at Villa Luppis is just enchanting. Decorated Christmas trees are all around, the huge park is enlightened by more than two hundred candles, the atmosphere is so cosy and romantic! You will have a one-of-a-kind experience; and have activities organised exclusively for you every day. Sich as: nearby city tours (Venice, Treviso, Padua), relaxing treatments at the SPA, a treasure hunt and many others. You will be able to breathe the magic air by simply having an afternoon cup of tea in the Villa's hall, enjoying the view on the park or by sipping a cocktail while listening to a pianist playing for you. On Christmas Day you will take part at the traditional Christmas lunch gala, which will offer an appetizers buffet, several courses, a dessert buffet and a selection of wines and will be accompanied by live music in the background.
Staying at a Venetian Villa with more than a thousand years of history is an extraordinary experience! Villa Luppis is a unique pearl and having the opportunity not only to visit, but also spend many nights there is just a dream. With a 30-year hotellerie experience, the Luppis Family and the staff will make you discover what truly means to feel welcome with their kindness and courtesy!