An Unforgettable Adventure
Just You Tour Manager Caroline Godfrey spent Christmas on an Antarctica cruise – here's what she had to say about it.
"Our group of 18 people flew out to Santiago. On arrival in Santiago we had a tour of the city and a Welcome Dinner in the evening when we started to get to know each other. The following day we took a flight to Punta Arenas where we toured the city and visited the second most visited cemetery in South America, which was fascinating, we also made a stop at an amazing viewpoint where we could see our ship in the distance.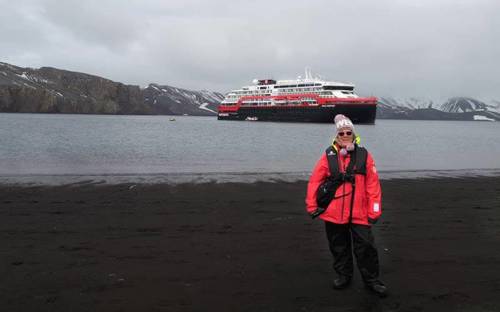 Photos courtesy of Caroline Godfrey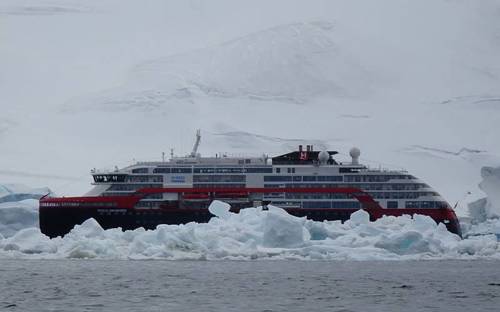 The adventure begins
Our ship, The MS Roald Amundsen, was a hybrid powered ship and very modern. Passengers loved the onboard Science Centre with its microscopes, books and exhibits. The cabins were big, with a seating area (even the standard cabins) and the Explorer Lounge and Bar on deck 10 was a lovely place to relax. We spent a lot of time there as a group relaxing, playing games and chatting about the experiences of the day. What made the ship extra special was the knowledgeable expedition staff, who were always on hand to educate the guests.
Every day was a different experience. As this is an Expedition the itinerary will depend on the weather conditions. One day you might be doing a landing and seeing penguins, another day you may be cruising through icebergs on the zodiac. Whatever the day or the experience it will stay with you forever.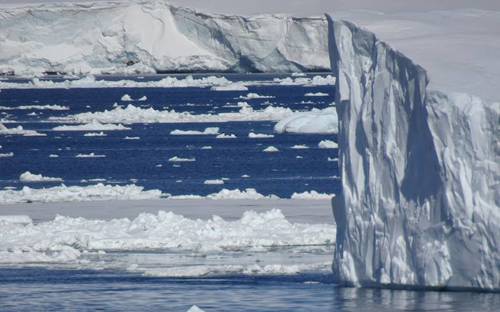 Photos courtesy of Caroline Godfrey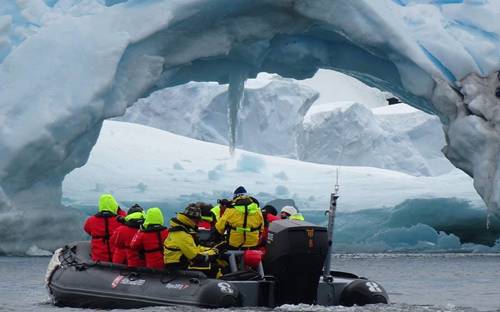 Amazing wildlife
We experienced our first landing at Yankee Harbour. In groups of around 15, we boarded the zodiac boats, our Expedition Group was called 'The Cape Petrels' after a type of bird. At Yankee Harbour, we saw gentoo penguins for the first time and we were given an in-depth briefing beforehand about how to land and the protocol around these magnificent animals. It was an incredible experience to see them in the wild just doing their own thing. It was funny to watch the male penguins show off in front of the females by bring stones back to their nests – the female penguins were completely unimpressed!
We then headed to Brown Bluff and the scenery was stunning. We saw more gentoo penguins and some Adélie penguins too. We went out on the zodiacs and cruised beside the icebergs, where we saw seals and birds, it was the most stunning and overwhelming feeling. I found the whole experience of being completely at one with nature quite spiritual. I went with the expectation that the most exciting thing would be the wildlife, however for me, the most amazing moment was the ice cruising. It is hard to put into words just how amazing it was and the photos don't come close to doing it justice. I had to pinch myself the first time I saw them! After dinner one night, we sailed alongside the longest iceberg in the world – it was 159km long!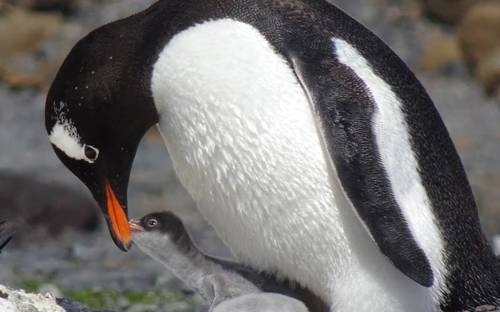 Photos courtesy of Caroline Godfrey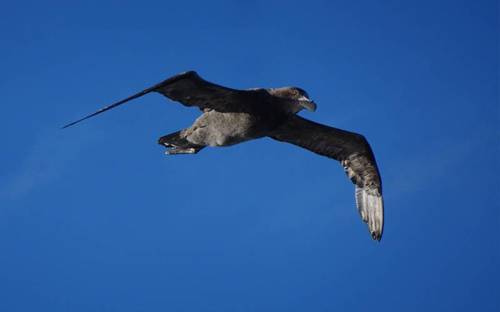 Even more incredible experiences
We then headed to Damoy Point, where some of the group decided to do the optional snowshoeing experience. It was snowing as we did it and although it was tiring, it was completely worth it. One to tick off the bucket list! Some of the group camped out that evening and loved it. There was also an opportunity to take a dip in the icy cold water. Three of the group decided to give it a go and they received a certificate afterwards – it was something they will never forget!
The excitement of actually being in Antarctica was magical and everyone said it was a once-in-a-lifetime experience. Whilst cruising we saw several humpback and minke whales and we even got a visit from Father Christmas on Christmas Eve!
My advice? Take the plunge and just do it! You're never on your own, unless you want to be of course. You'll end up with lots of new friends and will create memories with a group of like-minded people. Travelling is about sharing!"
Caroline's top tips
Make sure you take plenty of indoor clothing and not just outdoor clothing
Do a little bit of research before you go
Eagerly anticipate it – it will be everything you imagine and more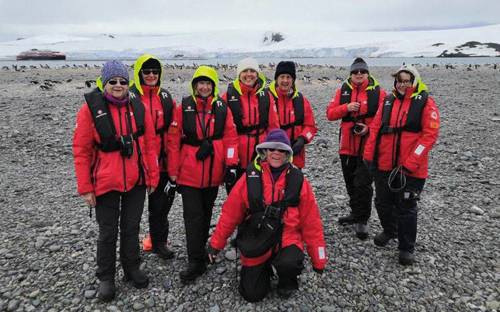 Photos courtesy of Caroline Godfrey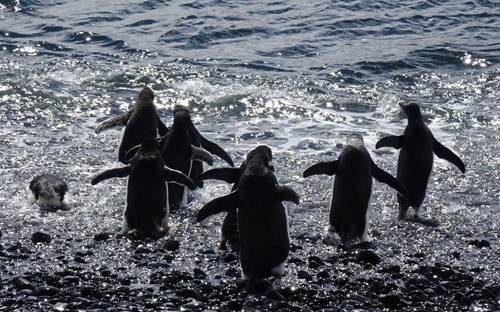 "If Antarctica were music it would be Mozart. Art, and it would be Michelangelo. Literature, and it would be Shakespeare. And yet it is something even greater; the only place on earth that is still as it should be. May we never tame it."

Andrew Denton