One of the many friendly voices at the end of the phone helping you book your next solo adventure, we caught up with Just You Holiday Advisor, Alan following his incredible trip to Jordan.
I love travelling because it opens up new windows on the world with new and vibrant cultures which are very different to my own, often there's incredible foods to sample, and of course, different attractions and sights with their own fascinating stories to tell. In essence I think travelling just gives you a completely new perspective and appreciation for things.
That's partly why I chose to visit Jordan as part of the Ancient Treasures and Empires tour. It's a real contrast to western culture, and visiting biblical sites and experiencing Jordanian traditions through its food and history was not disappointing.
Although I am well travelled, I was a little bit nervous as it was the first major overseas trip I had been on since 2020. That said, having spoken to so many Just You customers on the phone, I was confident that I would meet lots of people all in the same boat, but with a mutual interest to discover Jordan.
There was a group of 30 people on our trip, and it was a fantastic dynamic with people from all walks of life, different ages and a good mix of men and women. I loved being able to spend time with Just You customers and learn more about them – and many of the group had lots of interesting life stories and personalities, I really enjoyed getting to know some of them a little better.
It's hard to pick just one highlight, but one thing I will say is that Jordan just seemed to throw up a surprise or wow moment at any unforeseen opportunity.
I joined the optional Petra by Night experience and that was so atmospheric, I've never encountered anything quite like it. We were led by candlelight and by the natural light of the moon, and you could just feel the sense of anticipation and excitement build as we made our way towards the Treasury.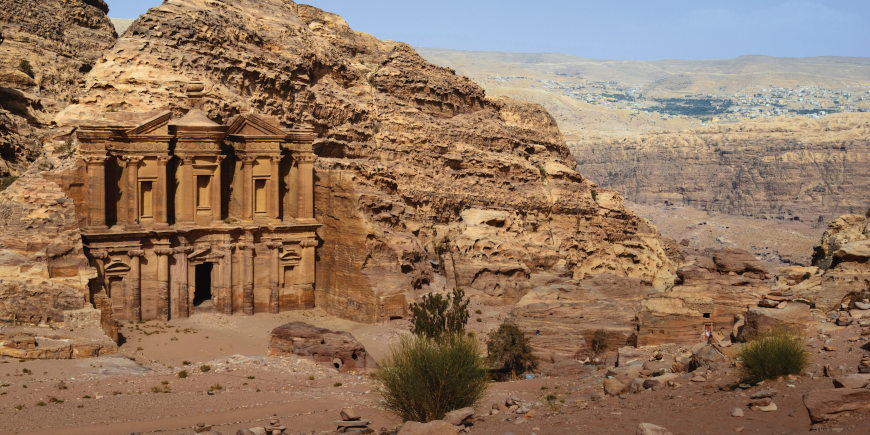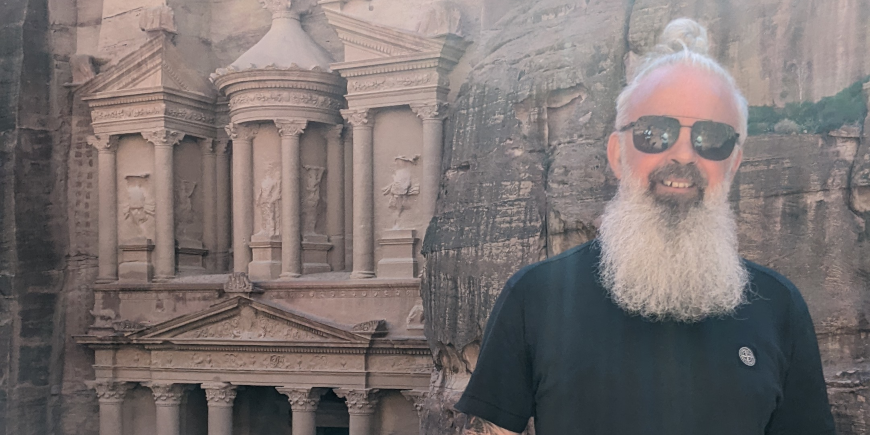 Then, all of a sudden you're greeted by hundreds and hundreds of candles flickering away in front of the Treasury building. It's a complete contrast to visiting in the day where there's just so many people, whereas at night it's more stripped back and special. It was genuinely spectacular.
The stargazing experience was also an interesting tour too, Jordan offers quite possibly the clearest night sky you're ever likely to witness as there's no pollution marring the views. And while we can all stand and stare at the moon and stars, it was great to have an astronomer deliver a talk on exactly what you're looking at – otherwise you'd think it all looks the same!
It's worth noting that Jordan is a dry country, and on day three we enjoyed a traditional Jordanian dinner accompanied by the most sensational fruit cocktails. Dinner included lots of perfectly-cooked grilled meats, salads, dips and fresh breads, Middle Eastern food is just fantastic, and I just wished I'd asked for some of the recipes to take home and make myself!
I thoroughly enjoyed the desert, sand dunes and rocky landscapes of Wadi Rum, the scenery there was out of this world, it made me feel like I was in the middle of nowhere, it was so peaceful.
We spent the night in a Bedouin Camp here too and that was just really quirky. Earlier on in the day we also had the chance to learn about the lifestyle and traditions of the Bedouin community who live a semi-nomadic lifestyle – it was so fascinating to join some of members of the Bedouin tribe for lunch and herbal tea and hear their accounts on how they survive in desert climates.
Ahmed, our Specialist Local Guide was fantastic, his knowledge was something else and it seemed like there wasn't anything he didn't know about the history of Jordan and Petra. Anything he didn't know I would say wasn't worth knowing personally!
I think it makes all the difference with an escorted tour as between your Holiday Director and the Local Guide, they have everything covered, and can answer anything you're keen to know more about – it feels like you're getting a bit more of the inside track on a destination versus doing it all yourself.
My top tip for any first time solo travellers out there would be don't overthink it, just go on and get it booked! You'll be told exactly what you need to do, where you need to be and when, so it takes the stress out of it. I would recommend Jordan in particular for a solo escorted trip as it's a complete contrast to life in the UK or your typical fly and flop holidays, so you really feel the benefit and value in doing something different with your time.
Also I think it would be a little tricker to navigate Jordan independently. The Just You team know all about the culture, the customs, the best attractions and they regularly communicate with local guides and suppliers so they really are 'the boots on the ground'.  If I had to do it on my own, without the knowledge and experience I have gained over the years, while it is all achievable to organise, it's a lot of hard work, so I think escorted tours are absolutely the way to go – not that I'm biased or anything!
Let us take you there
Jordan - A Land of Ancient Treasures & Empires

Discover Jordan's gleaming treasures as you journey to biblical sites, the 'lost city' of Petra and through magical desert landscapes.

Return flights
7 nights in 4-star hotels
15 meals: 7 breakfasts, 2 lunches, 6 dinners

8 days from

£3,049

was £3,149