The Inside Track - Costa Rica
Tour Manager, Rosie recently escorted a Just You group to Costa Rica, here's what she had to say about the country.
"Costa Rica is such an exciting place to visit. Located between the Caribbean Sea and the Pacific Ocean, its unique geography of beaches, mangroves and mountains creates a fantastic landscape with plenty of colourful flora and amazing wildlife. The locals are really friendly too.
Just You's 'Real Costa Rica' tour is perfect for anyone looking to get a true sense of what Costa Rica is all about. If you want to discover a country where wildlife is within touching distance and the vivid colours of nature are all around, this is the trip for you! You'll travel from mangrove forests to sandy beaches, across rolling mountains and through cloud forest to plains surrounding magnificent volcanoes.
My favourite experience on this tour is the boat excursion through the water channels of the mangrove forest. The scenery is magical, and we usually get a close-up view of beautiful birds, sloths, monkeys and reptiles. It's almost a water safari.
Another highlight is the amazing boat trip in Tortuguero. In fact, on my last trip, something very special happened on this excursion, we spotted a furry sloth swinging from one tree to another. He looked so cute, it made everyone smile.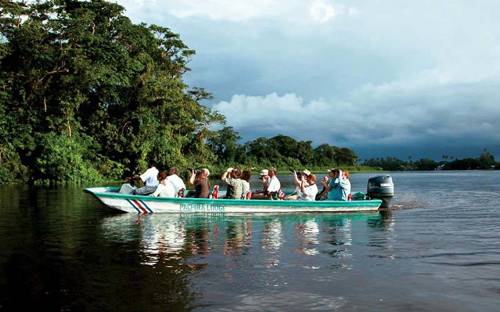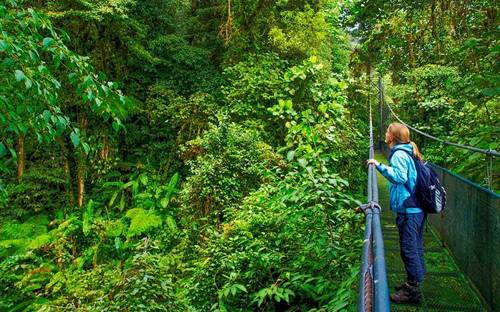 The tour also includes a fascinating visit to a Bribri indigenous community. The local people are so friendly and will proudly show you how they use natural materials in their day-to-day lives. They knit leaves to create roofing materials and vegetable fibres to make handicrafts. They will share their knowledge about the medicinal properties of local trees and bushes and may even show you how they roast and grind cocoa beans to make a chocolate drink. On this excursion, my last group discovered a semi-covered pond teeming with little shiny frogs and exotic flowers – it was delightful!
Other experiences worth mentioning are the wonderful walk along the wooden path in the Cahuita National Park, where you are surrounded by huge trees, and the fabulous visit to the Hanging Bridges of Arenal. This optional excursion offers incredible views over the forest canopy.
My last group all got on really well together. They shared a common interest in nature and wildlife and loved to share their photos over a relaxing drink in the bar.
One thing you must try in Costa Rica is gallo pinto, a mix of rice, black beans, red pepper and coriander. It's often served as part of a buffet breakfast and most people find it pretty tasty.
The Costa Ricans are proud of their eco-friendly country and are warm and welcoming towards visitors. They live in a special place where you'll find beaches of black and white sands, rushing rivers and mighty volcanoes. Costa Rica really is a hot and sunny tropical paradise and it's no surprise that a common greeting in the country is 'pura vida' which means 'happy life'.
I love travelling and learning about different people, their culture, relationship with nature and their history. I also love my job as a Just You Tour Manager! I will never tire of sharing special moments with people as they discover the treasures a country has to offer and throw themselves into exciting adventures."