Prague can rival any city in Europe for beauty, its thousands of spires rise from stunning architecture and a hilltop castle looks down onto the calm picturesque Vltava river. Its history dates back a millennium and can be felt with every step along its cobbled side streets.
What's more, Prague is bursting at the seams with things to see and do, with famous sights, historical landmarks, beautiful gardens, lofty vantage points, traditional Czech pubs, cafes and a thriving music scene, there really is something for everyone.
Explore the Prague Castle complex
Forming part of Prague's distinctive skyline, Prague Castle has been home to kings of the Bohemia, Holy Roman Emperors and presidents of Czechoslovakia and is now the official office of the President of Czech Republic. The castle complex is home to many interesting sites – explore the Cathedral of Saints Vitus, Wenceslas and Adalbert, visit Saint George's Basilica, and wander down the picturesque Golden Lane. Once you've finished exploring, take a moment to admire the fabulous views over the city from this fantastic vantage point.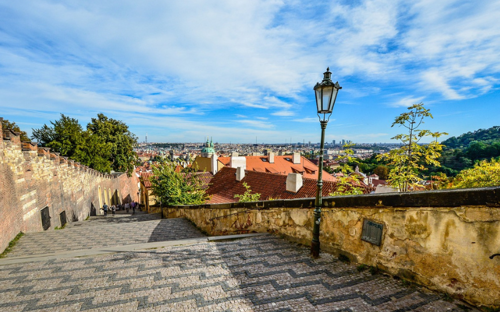 Stroll across Charles Bridge
On your way back from Prague Castle make sure you take a stroll across Charles Bridge. This stunning medieval structure is one of the oldest bridges in the Czech Republic. Two towers stand on each end of the bridge – Old Town Bridge Tower and Lesser Town Bridge Tower. These two beautiful Gothic gateways provide stunning entrances to the two sides of the city. While crossing the bridge take advantage of the amazing views of the river and of the dramatic Prague Castle towering above Lesser Town.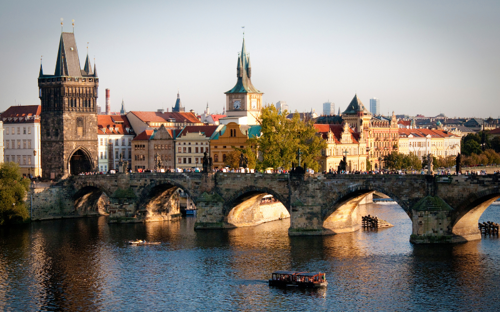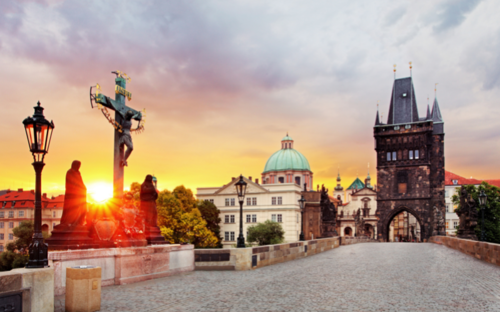 Step back in time with a visit to Old Town Square
No visit to Prague is complete without a visit to Old Town Square. Dating back to the 10th Century, it is the oldest square in the city. See the famous Astronomical Clock and watch 'the Walk of the Apostles' performing on the hour and visit the beautiful Gothic Church of Our Lady Before Tyn or the baroque St. Nicholas' Church. With so many pretty pubs and cafes, the square is a perfect place to grab a pint of Czech beer (or two!).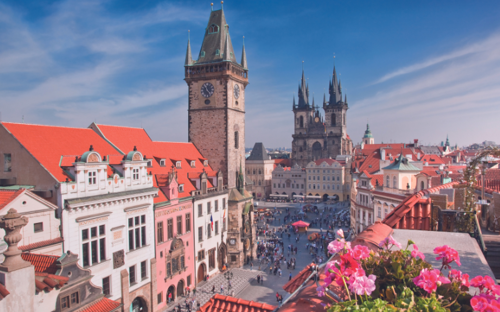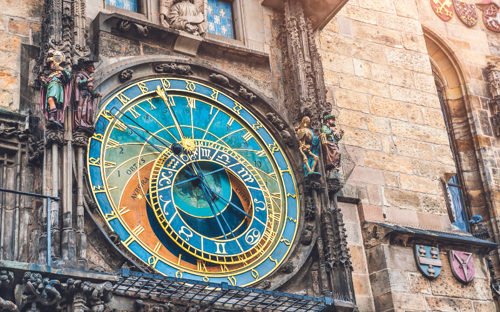 Pick up a souvenir
If you want a break from sightseeing and shopping is more your thing, then Prague has wealth of options for you, all conveniently located near to Old Town Square.
For those looking for small gifts to bring back home, there are many souvenir stands around Old Town Square and plenty of shops on Karlova Street, which links the square to Charles Bridge. Bohemian glass is famous for its uniqueness and quality and you'll find plenty of Bohemian glass shops spread across the city. The most popular places to look are around Wenceslas Square, Na Příkopě and close to Charles Bridge.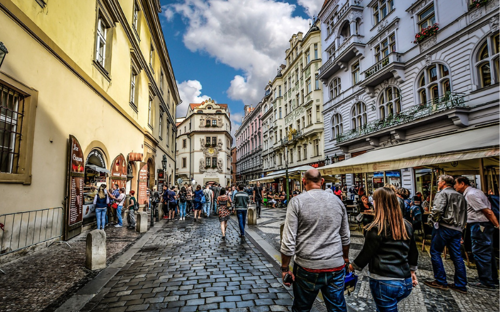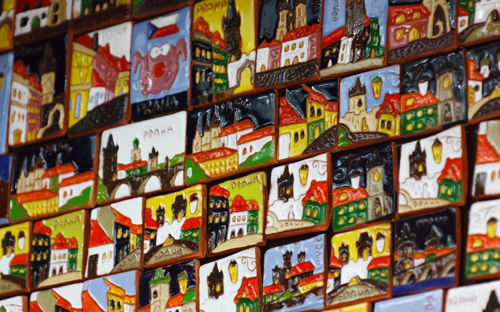 A taste of Prague
Prague is not necessarily known for its amazing food, but don't be fooled, this city produces some amazing dishes. Perhaps the most famous dish is Czech goulash, not quite as spicy as its Hungarian cousin, it's easy to find a nice restaurant in Prague to eat this signature meal – but don't even think of ordering it without dumplings on the side!
For something a little different, you must try Trdelník (chimney cake). This delicious pastry can be found on every street corner and can be made sweet or savoury with different fillings inside. For a lovely cup of coffee accompanied by amazing views, visit Café Slavia. With a history dating back to 1881 and beautiful views of the river, Charles Bridge, Hradčany and the National Theatre – this is a coffee you won't forget.