The Greek capital is classical colossus – ancient sites abound, alongside tempting tavernas and leafy streets. We share a few of the highlights you could discover when you spend 24 hours in Athens as a solo traveller....
Admire the Acropolis
Wherever you are in Athens, you'll feel the presence of the awe-inspiring Acropolis, which sits on a hilltop above the modern bustle. Its key buildings – the Parthenon, Erechtheion and Propylaea – were constructed in the 5th century BC, and still amaze today. While you're here, visit the excellent Acropolis Museum, where a local guide will help you better understand the crumbling columns
Stroll the old streets
The lofty Acropolis affords fine views over the Greek capital – including just below, the old district of Plaka. Plaka is the perfect place to stroll; it's like a little village within the metropolis. Join some of your fellow travellers to discover a flower-bedecked jumble of artist-owned shops, enticing eateries and street musicians.
Take to a taverna
Traditional staples – crisp salads, cooling tzatziki, crumbly feta, wonderful breads – seem designed for sharing with newfound friend on a leafy terrace on a balmy summers eve. Athens has an abundance of tempting tavernas where you can end the day with authentic dishes and an ouzo or two.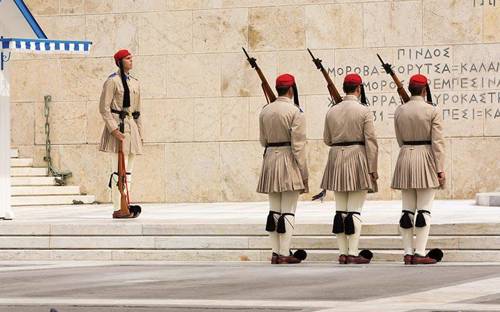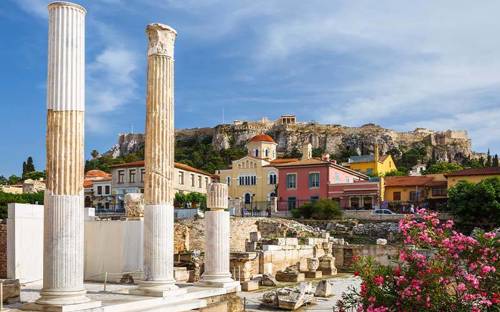 Gawp at the guards
Check your watch: if it's on the hour, head for Syntagma Square. This grandiose gathering place is home to the Hellenic Parliament and the Tomb of the Unknown Soldier, which is protected by traditionally dressed Evzones; every hour you can watch these presidential guards, in tasselled hats and pompomed clogs, perform their slow, stylised changeover.
Seek out more sites
Athens has an embarrassment of historic riches. For instances, from Plaka you can walk through Hardrian's Arch to the soaring, ruined columns of the Temple of Olympian Zeus, once the largest temple in all Greece. Its vast scale will make you feel small indeed. Then enter the Panathenaic Stadium, a marvel-in-marble that was built from the remains of an ancient arena that could seat 50,000 Greeks, and hosted the first modern Olympics in 1896.
Feeling inspired? Why not take a look at our Greece holidays for solo travellers?