Just You Reassurance Guarantee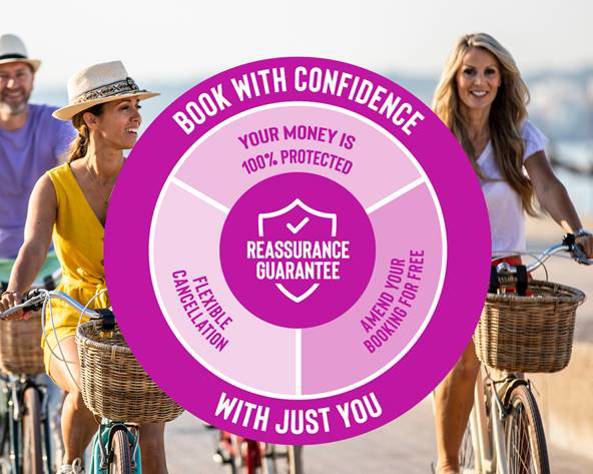 We understand the world is adapting and changing constantly during the pandemic, which is why we want to give you peace of mind when booking your next holiday with our Reassurance Guarantee.
This is our most flexible booking policy ever, you can book with confidence knowing your money is 100% protected, you can amend your holidays for free and you can cancel up to 45 days before departure and not lose a penny*.

100% protected
Rest assured your money is 100% protected. Any money you pay to us is held in an independent Trust Fund, governed by 3rd party trustees. It is also a condition of our ATOL license and is regularly monitored by the Civil Aviation Authority. We don't receive any money until after you've come back from your holiday – so your money is 100% protected no matter what.

Amend your booking for FREE*
For any booking before 31st October 2021 you can change or amend the booking as many times as you need without incurring any amendment fees or arrangement fees.
Flexible Cancellation*
You can now cancel any booking made before 31st October 2021, up to 45 days before departure without losing a penny. You literally have nothing to lose!
Holiday Assurance
When you're ready to travel again, we'll be right with you to support you every step of the way. For more information on the new safety measures in place on all our tours, see our Holiday Assurance guarantee
* Terms & conditions apply, see essential information for full details.